SPRAY TANNING
SHEA'S JACKSON HOLE

TWO OPTIONS TO CHOOSE FROM
Hand Sprayed Airbrush
offers a comfortable, relaxing, and fully customizable airbrush experience. We can customize everything about the tan, fill-in tan lines, not spray you face or make your legs darker. You can also request the dolce powder that ensures a dry comfortable tan. You will need an appointment as a technician sprays you.
Versa Booth VersaSpa® PRO
Spray Tan System provides a premium in-salon spray tanning experience with 3 spray nozzles for even, full-body coverage. The open spray tan booth provides a comfortably heated environment and an easy and relaxing experience, resulting in a beautiful, professional spray tan. We can take walk-ins with the booth but if you want a specific time you can make an appointment.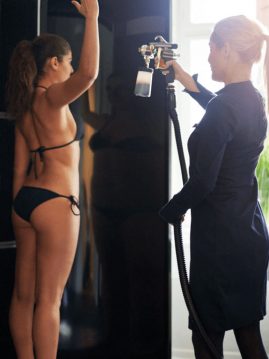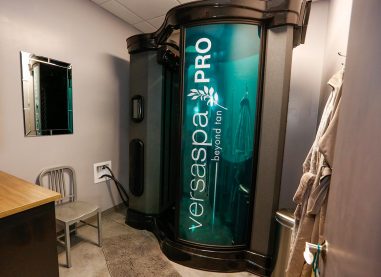 Take the uncertainty out of sunless tanning with the VersaPro® Heated Sunless Spa Series. This cutting-edge technology gives you flawless results in the privacy of an automated spray tan booth. VersaPro® offers graduating levels of color, plus some salons offer prep and hydration treatments that allow you to extend the life of your sunless tan.
The spray bar now has 3 nozzles for incredible coverage. An LED touch-screen in the tanning booth allows you to see your session choice and review the steps of the session. Both the tanning booth and spray are heated for your comfort. Numbered foot tiles eliminate confusion on how to stand in the spray tan booth. The equipment dries you automatically.
DO 24 hrs prior to tan exfoliate, shave or wax. Don't use an oil base scrub.
DO shower before the tan. Skin should be clean & dry free of any lotions, oils, deodorant or perfumes.
DO your mani/pedi appointment the day before and facials at least 1 week before.
DO bring loose dark clothing and easy slip on shoes
DO Moisturize the day after your tan 2X a day for the duration of the tan 7-10 days.
DO apply SPF when in the sun. The tan gives you no sun protection.
DO pat yourself dry after your showers after tan. No shaving, waxing or scrubbing, it will take the tan off.
DO be aware that chlorine & hot tubs will dissolve the tan faster.
DO make sure to get an at home tan extender.
DO Moisturize after the tan
DO completely scrub your tan off if you are goin to get another tan.
DO get your tan done 2-3 days before a big event and we highly recommend doing a practice.
DO bring a swimsuit if you will be more comfortable
DON'T apply any lotions the day of your tan
DON'T get wet or sweat for 8 hrs.
DON'T touch your skin while the tan is developing. If you do take a wet paper towel and wipe off your palms. Be careful because anywhere you get water will take the tan off.
DON'T moisturize with oil it breaks down the tan quicker.