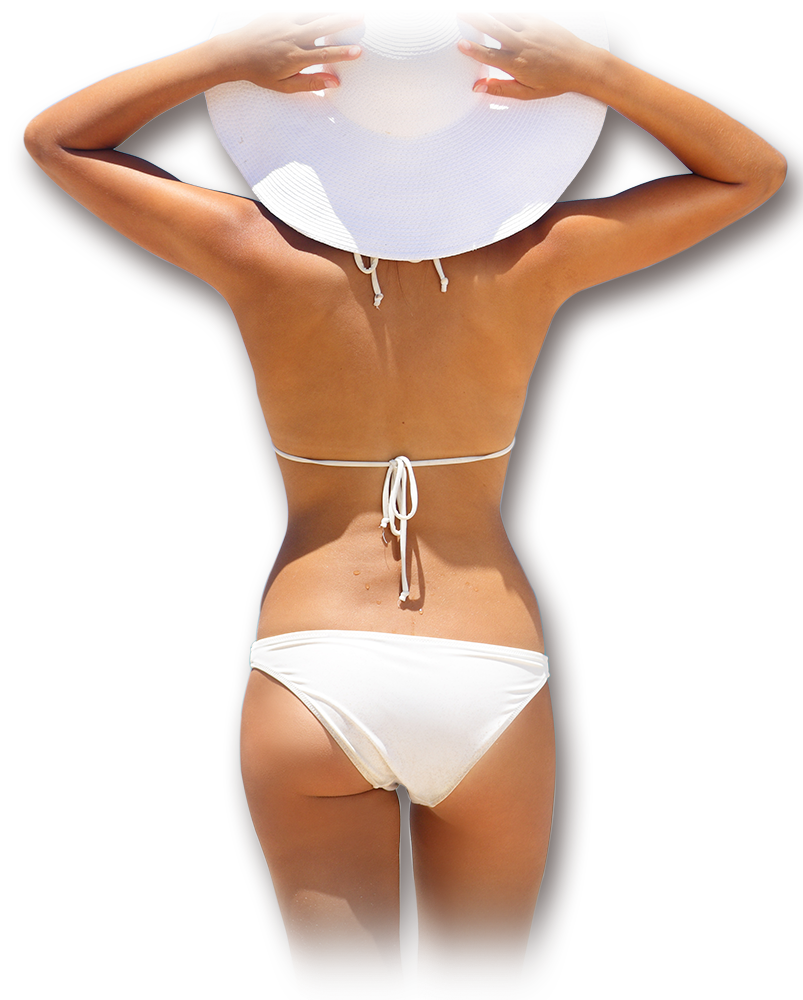 ---
Spray Tan
---
Take the uncertainty out of sunless tanning with the VersaPro® Heated Sunless Spa Series. This cutting-edge technology gives you flawless results in the privacy of an automated spray tan booth. VersaPro® offers graduating levels of color, plus some salons offer prep and hydration treatments that allow you to extend the life of your sunless tan. The spray bar now has 3 nozzles for incredible coverage. An LED touch-screen in the tanning booth allows you to see your session choice and review the steps of the session. Both the tanning booth and spray are heated for your comfort. Numbered foot tiles eliminate confusion on how to stand in the spray tan booth. The equipment dries you automatically.
---
Versa Spa Tan Booth ...........$50.00 | Air Brush Spray Tan..........$55.00
+ $5.00 for Double Dark
---
1)Try to make your spray tan appointment for a time that allows you to shower before your appointment.
2) Avoid using deodorant before your spray tan appointment as it will provide a barrier to the spray tan's absorption.
3) Do not to apply moisturizer or oils prior to having a spray tan as it will interrupt the absorption of the spray tan.
4) Remove all jewelry prior to a spray tan and leave them off for at least 8 hours after.
5). Try to wear dark, loose clothing after the tan.
6) When possible always shave or wax at least 24 hours prior to a spray tan appointment, as hair removal after a spray tan will remove the tan. Exfoliate from head to toe preferably the day prior to a spray tan, paying particular attention to areas such as your knees, elbows and ankles.
7). When possible, try to wear flip-flops home from your spray tan appointment to avoid boots/socks/stockings which may rub off the tan solution.
8)Do not get wet for 8 hrs hours after a spray tan. So if it is raining the day of your appointment, plan accordingly.
9) Try to avoid activities that will cause excessive perspiring for 8 hours after a spray tan. Plan your exercise routine around your spray tan appointment to either exercise and shower before your appointment or wait until your tan has finished processing before exercising. Also avoiding activities that naturally exfoliate the skin — such as baths and chlorinated pool swimming. If you are going on vacation and will be swimming in a chlorinated pool or the ocean use a tan extender to prolong your tan.
10) Avoid using soap or any scrubs and shower only with warm (not hot) water to wash off the tan the next day .After a shower, try to gently pat your skin dry and avoid vigorous rubbing when towel drying.
11) Avoid spraying perfume or applying moisturizer to your face or body until after you have washed the spray tan off. Once you've washed it off, keep your skin as moisturized as possible to increase the longevity of the tan and help you to avoid the tan wearing off in patches due to dry skin. Daily use of a tan extender will extend the longevity of your tan..

Facials & Cosmetics
---
After a consultation with the Esthetician, we will customize your treatment using specially formulated products to repair & replenish your skin. You will see the best results when you do these facials in a series
.
---
Teen Facial
. . . . . . . .50min
Customized for your skin care needs.
The Classic.
. . . . . . 50min
Totally customized for your specific skin needs with cleansing, exfoliation, skin analysis and extraction, massage and a mask.
Purifying Deep Pore Cleanse
. . . . . . . 60min
A deep cleanse and a detox for your skin. Invigorating exfoliation, skin analysis and extraction, massage and a mask.
Ultimate Age Defying Facial
. . . . . . . 80min
Reveal your glowing skin with this quenching experience that provides your skin with a blend of antioxidants. Visibly reduces the appearance of fine lines and wrinkles while tightening and firming the contours of the face. Relax with a hand a foot massage.
Diamond in the Rough
. . . . . . 90min
This targeted treatment is the perfect non-surgical alternative to achieve visible reductions in fine lines, wrinkles or acne scares. We use an organic peel, microderabrasion and an LED light session.
Hydra Facial.
. . . . . . 60 or 90min
The HydraFacail provided a deep cleaning by removing dead skin cell & impurities while simultaneously bathing the new skin with cleansing, hydrating and moisturizing skin solutions. LED light session is done with the 90min treatment.
---


---
Manicures & Pedicures
---
Relax and let us take care of you...
---
Shea's is more than a nail salon. It's a time designed to refresh, re-energize, and revitalize. That's why our nail spa therapy treatments are made from superior quality, natural and organic ingredients. We've hand selected products for our manicures and pedicures because they are pure, organically grown and produced from fresh herbs, flowers, oils & grains. No artificial preservatives, petroleum products, synthetic fragrances, dyes or fillers!
---
Frequently Asked Questions
— Salon Policies
Good To Know
---
We recommend making an appointment for the service and time you desire. We have a 24 hour cancellation/change policy of 100% of the service. As a courtesy to all of our clients we will confirm your appointment by email or text. We take Cash, Visa, MasterCard & American Express. Sorry no personal checks. We do offer a discount for a cash transaction. We also will offer a Military Discount with a current valid ID.
Our 24 hour Cancellation or Change Policy: We kindly ask that you contact us at least 24 hours in advance if you need to reschedule or cancel an appointment so that we may reserve the time for another guest. Otherwise, you will be charged in full for your appointment. As such, credit cards are required to reserve your appointment. We reserve the right to verify your credit card information prior to your appointment.We require a credit card to guarantee your appointment or you can prepay before the appointment.
Late Arrivals
---
If you are late for your appointment, your treatment may be shortened to allow us to keep on schedule. The usual fee for the treatment will apply.
Children
---
As a family friendly salon, we welcome children in the salon. However, we use chemicals, hot irons and sharp scissors – and don't want anyone to be injured while visiting Shea's. Children under 12 years old are not permitted unless they have an appointment at the salon. Additionally, we are committed to providing a relaxing, stress-free atmosphere for all of our guests. If service must be rescheduled upon arrival, full charges will apply. Due to state board regulations animals are not permitted in the Salon.
Medical Treatments
---
Please notify the person performing your treatment of any pre-existing medical condition or medication you may have or be taking. We reserve the right to refuse treatment to any person
---
CONTACT US